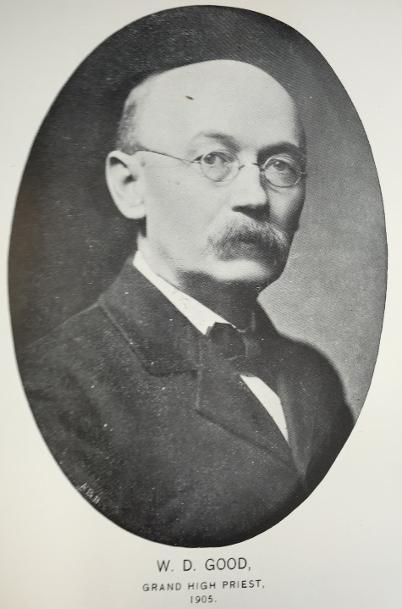 (The following is an abridged version of the memorial for William D. Good that appeared in the 1912 Grand Chapter Proceedings)
In Memoriam
The following, in memory of Companion Wm. D. Good, P.G.H.P., was read by P.G.H.P. Geo. P. Chandler, and ordered printed with the proceedings:
To the Most Excellent Grand Chapter of Tennessee:
I stand before you today to do for our departed Companion, Past Grand High Priest William David Good, that, which some day, someone will do for me, and another in turn for him, and another for another, until the firmament shall have rolled up like a scroll and time shall be no more.
"Death has thrust in his scythe and laid low one of our best beloved members of the Order, our esteemed brother, William David Good. He passed from his home to his immortality April 1, 1911. Thus our Mystic Circle is broken again, and today the sprig of acacia blossoms on the new made grave of our brother. He was a consistent Christian, a trusted Mason, and a humanitarian of rarest quality and widest benevolence. With love, joy and dignity he filled his place in the world as a man, and thus responded to the final summons as calmly as one who 'lies down to pleasant dreams.' Thus from earthly labor to heavenly refreshment he has been called."
Brother Good was made a Mason in Nolachucky Lodge 323, June 2, 1877; was exalted a Royal Arch Mason in Greeneville Chapter 135, April 10, 1891; was created a Royal and Select Master in Greeneville Council 77, October 23, 1895; was dubbed a Knight Templar and Knight of Malta in Greeneville Commandery No. 20, July 25, 1896. He served his Lodge as Worshipful Master, his Chapter as Excellent High Priest; and after filling many offices in the Grand Chapter of Tennessee, he was elected Grand High Priest in January 1905. He filled every position with honor to himself and credit to the fraternity.
Only those of us who have associated with him in the various bodies can realize the fidelity and zeal with which he discharged whatever duties and responsibilities may have devolved upon him. From our intimate association with him for many years in the work of the Craft, we can truthfully say that he was one of nature's noblemen, frank, generous, cordial, and companionable on every occasion. He exemplified the principles of Masonry in his life and conduct, a man in whom you could place implicit trust, upon whom you could rely in any emergency. He was true to himself, true to his family and friends, true to his God and his convictions of right.