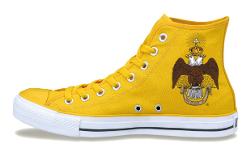 The Scottish Rite Mercy Fund is a Shoes-For-Kids program that is sponsored by the Knoxville Scottish Rite Temple. The Greene County Scottish Rite Club averages giving 300 pairs of shoes each year. The cost of the shoes are covered by generous donations and various sponsored events. We often take for granted something so simple as a pair of shoes, but to these children it makes a huge impact on their lives. Without a proper fitting shoe in these crucial developmental stages, future foot and lower back problems can develop causing further complications down the road. Many children are forced to wear "hand me down" shoes. The problem with that scenario is that a proper fitting shoe needs the opportunity to mold and adjust to each foot. Each foot can be slightly different from the other. This is why the Scottish Rite provides these children with brand new athletic shoes. Athletic shoes are chosen not only for comfort and style, but because they meet the necessary requirements for the Physical Education programs of the local school systems. If you are interested in getting involved with the Scottish Rite Mercy Program or would like to make a donation, please visit the Contact page and let us know.
Photographs
(Greene County Scottish Rite Club Mercy Fund in action)
"And now abideth Faith, Hope, Charity, these three; but the greatest of these is Charity."